Meredith Forbes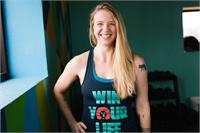 Meredith Forbes is a performance coach and operations manager at The Power House. Meredith found her love for fitness through injury, and has since studied the body to understand its full capacity. Her passion to learn more led her to get certifications in both CrossFit and Pilates, and has allowed her to create specialized recovery classes at The Power House. Meredith brings a fun energy to classes, and can help any person pick out their favorite wall ball or piece of mobility. To Meredith, winning your life means spending time with family and lifting more. When she isn't at work, deadlifting or squatting, she is running trails and adventuring with her kids.
Meredith Forbes instructs the following:
Our Power House CrossFit classes are focused on movement quality, skill progressions, and FUN! CrossFit classes include a skill-based warm-up, skill or strength training, the Workout of the Day (or "WOD"), and mobility work. The workouts can always be scaled so that new athletes can workout alongside veteran athletes. On some days, the WOD will be a 10-20 minute metabolic conditioning workout that combines several movements or exercises that are grouped into sets and either completed for time or in as many rounds a possible ("AMRAP"). On other days, the class will focus on a strength piece (like a 1 rep max deadlift) followed by a shorter metabolic conditioning "finisher" workout.




Our Women's Only Class is designed for the fitness development and enjoyment of the 50+ female population. This class welcomes all women who want to work out in a fun, challenging, and non-intimidating environment with other awesome ladies!

This class, taught by head coach Ashley Stiles, will introduce and build upon CrossFit-style workouts while taking into account each person's fitness level and experience. This is a perfect way to make working out social, energetic, and effective! Ladies, start your engines!

Fees: Included for members, drop-in and ten pack rates apply for non-members.




Midline & Mobility is an active recovery class that focuses on engaging your core to support mobility throughout your body, as well as lengthen and decompress your spine.

Our Midline & Mobility work pulls from the bodies of knowledge from yoga, classical Pilates, and mobilitywod, and we focus on mobilizing the entire body through movement. Pilates elements will work on flexing and extending throughout the body while developing more core capacity. The yoga and mobilitywod-style pieces will identify trigger points and inflexibility and provides movements and exercises to correct them.

Adding this class into your weekly training is a necessary for working on mobility issues, past injuries, and developing awareness in a low impact way that is beneficial to all athletes and lifters. We will pay special attention to developing a practice that benefits healthy shoulders, a healthy spine and core strength- all things critical to sport performance and CrossFit.