Chuck Turner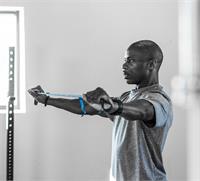 Philosophy:
Chuck became a personal trainer to help people believe in and achieve their goals. His expertise lies in core strength and stability, body weight exercises, endurance training and manipulation of body composition. Mobility, stability and strength: these are the key ingredients for sustainable fitness.
Certifications:
Certified Crossfit Trainer
Certified Personal Trainer, National Academy of Sports Medicine
Education:
Personal Trainer Associates Degree, St. Paul College
Functional Holistic Nutrition Associate, National Association of Nutrition Professionals
Chuck Turner instructs the following:
Our Power House CrossFit classes are focused on movement quality, skill progressions, and FUN! CrossFit classes include a skill-based warm-up, skill or strength training, the Workout of the Day (or "WOD"), and mobility work. The workouts can always be scaled so that new athletes can workout alongside veteran athletes. On some days, the WOD will be a 10-20 minute metabolic conditioning workout that combines several movements or exercises that are grouped into sets and either completed for time or in as many rounds a possible ("AMRAP"). On other days, the class will focus on a strength piece (like a 1 rep max deadlift) followed by a shorter metabolic conditioning "finisher" workout.