Vern Atwater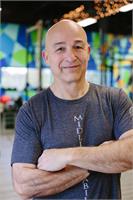 Fitness has been a life long passion for me. I believe that the more fit and stronger a person happens to be, the better their overall quality of life is. After a career in sales and marketing I have made the full time transition to the fitness world. I am an NASM CPT, Kettlebell certified thru CrossFit and Tactical Athlete, played four years of college football and coached at both the youth and collegiate levels.
Vern Atwater instructs the following:
There are those who believe that if there is such a thing as a Fountain of Youth, it is shaped like a cannonball and has a handle on it. Our Fountain of Youth Kettlebell class will build functional strength and fitness in a supportive, adaptive, and welcoming environment.

This class is for a someone with little or no kettle bell experience and over the age of 55. Class will be technique focused with appropriate work out time to employ your new skills.

Please contact instructor Vern Atwater at 612-202-1306 or vern4605@gmail.com with any questions!




The kettlebell is one of the most versatile and fun ways to get in shape. Our Kettlebells II: Skills & Drills classes are strictly focused on mastering the exquisite art of kettlebell maneuvers and putting those skills to use in challenging workouts!

Kettlebells II: Skills & Drills class requires previous kettlebell experience. 50% of the class will be devoted to proper technique and skill development and 50% to appropriately challenging workouts.

If you are totally new to kettlebells, do not fear! Check out our Kettlebells I: Introduction & Technique class to get started.

Vern can be contacted at 612-202-1306 or vern4605@gmail.com.

Are you a retiree or 55+? Check out our Fountain of Youth Kettlebell course that is specially designed to create fun and functional fitness for the young at heart.