Max Lipset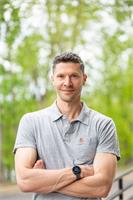 Max Lipset is the owner and head coach of The Power House at Highland and Side Door CrossFit. Max got hooked on strength and conditioning during his collegiate and professional soccer career. Max brings a science and performance-based approach to his training and programming. Combining sports-specific work with CrossFit, olympic lifting, yoga movements, mobility work, and speed and agility training, every workout with Max is different and thoughtfully constructed to achieve optimal results. Max works with a diverse roster of clients, from Olympic and D1 athletes, to 90 year olds, to clients recovering from significant injuries and just getting back into the gym. He looks for passionate, focused, and committed clients who want to discover their physical potential.
Certs:
CSCS (Certified Strength and Conditioning Specialist)
CrossFit Level 1, 2
CrossFit Coaches Prep
CrossFit Kids
CrossFit Olympic Lifting Seminar
CrossFit Endurance Seminar
CrossFit Movement & Mobility Seminar
Outlaw Way seminar
FMS I & II (Functional Movement Systems Screen)
Favorite Movement:
Favorite Benchmark Workout:
Contact Max at max.lipset@gmail.com
Max Lipset instructs the following:
Sign in for the 360 program at The Power House.




Join us on the 1st Saturday of each month for a FREE hour Q&A on all things supplement, nutrition, and recovery related. A Power House coach will answer questions such as

What supplements are right for me?
How can I progress my training to the next level?
What are the missing links in my recovery process?

Class will meet in the garage from 9-10AM.