Max Lipset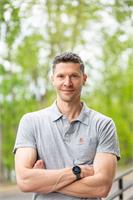 Max Lipset is the owner and head coach at The Power House. Max has always been interested in the human body. In fact, he was planning on going to medical school until he started coaching strength and conditioning as an undergraduate student. This exposure and experience helped him recognize the potential he had to improve people's health, all while focusing on their fitness goals. Max's background allows him to bring science to the forefront of strength and conditioning, and lets him customize every session with his robust clientele. To Max, winning your life means redefining goals to experience balance, challenge, progress and flow, and helping others win their life as well! When Max isn't working or doing double unders and kipping pull-ups, he is spending time with his two daughters, wife and dog, playing and coaching soccer and coming together with other coaches and athletes from the gym.
Max Lipset instructs the following:
Our Power House CrossFit classes are focused on movement quality, skill progressions, and FUN! CrossFit classes include a skill-based warm-up, skill or strength training, the Workout of the Day (or "WOD"), and mobility work. The workouts can always be scaled so that new athletes can workout alongside veteran athletes. On some days, the WOD will be a 10-20 minute metabolic conditioning workout that combines several movements or exercises that are grouped into sets and either completed for time or in as many rounds a possible ("AMRAP"). On other days, the class will focus on a strength piece (like a 1 rep max deadlift) followed by a shorter metabolic conditioning "finisher" workout.